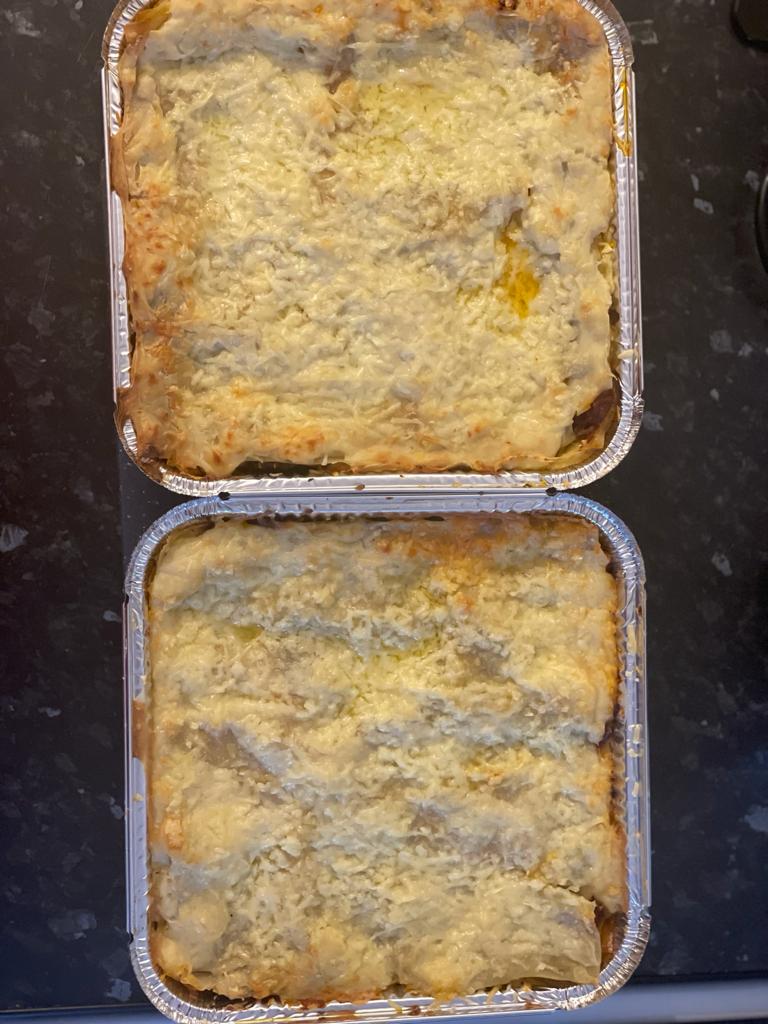 Comfort food doesn't get much better than this. A classic Italian dish, perfect for all the family. And if you're a cheese fan, than this is for you too! Lavish the top with your grated cheese of choice to make that delicious crispy topping.
Serves 6
30 mins to prepare and 1 hr 10 mins to cook
739 calories / serving
Freezable
Ingredients
1 tbsp olive oil
1 onion, diced
1 carrot, diced
1 celery stalk, diced
2 garlic cloves, finely sliced
250g beef mince
250g pork mince
1 tbsp tomato purée
400g tin chopped tomatoes
200ml beef stock
200ml red wine (optional)
1 tsp Worcestershire sauce
9-12 lasagne sheets (depending on the size of your baking dish)
50g Parmesan, grated
150g pack mozzarella, shredded
For the white sauce
50g butter
50g plain flour
550ml semi-skimmed milk
Method
In a large pan, heat the olive oil over a low heat. Fry the onion, carrot, celery and garlic for 5 mins, or until softened. Add the mince and fry on a medium heat until golden. Turn up the heat, pour in the wine and bubble until reduced. Stir in the tomato purée, chopped tomatoes and stock. Add in the Worcestershire sauce and simmer for 15 mins, or until the liquid has reduced. Season.
Meanwhile, make the white sauce. Melt the butter in a small saucepan over a low heat and add the flour. Whisk until combined and cook on low for 1-2 mins. Remove from the heat and gradually whisk in the milk until you have a loose sauce. Season. Return to a gentle heat and whisk constantly until the sauce thickens.
Preheat the oven to gas 6, 200°C, fan 180°C. Layer up the lasagne in a baking dish, starting with a third each of the ragu, then the pasta, then the white sauce. Repeat twice. Top with the Parmesan and mozzarella then bake in the oven for 40-45 mins, until piping hot and crisp and bubbling on top. Serve immediately.
Freezing and defrosting guidelines
Once the dish has cooled completely, transfer it to an airtight, freezer-safe container, seal and freeze for up to 1-3 months. To serve, defrost thoroughly in the fridge overnight before reheating. Loosely cover with foil and bake until dish is thoroughly heated through. Reheat until piping hot.
The above recipe was adapted from a post on the Tesco Real Food website. To view the original, as well as nutritional. Please visit:
If you gave this a go yourself, then why not get in touch and let us know what you thought.