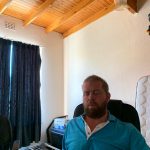 Hi, it's Brandt, I present An eclectic mess every Wednesday from 9 PM. I like most genres of music, check my shows out, and you will be surprised, guaranteed! I work as an accessibility trainer and tech support guy. In my spare time, I enjoy hanging with friends, a good book and great food. I am also a Lawn bowls player and a member of a club in Johannesburg South Africa, where I live.
If you want to get in touch with me, feel free to follow me on twitter, or send me an Email.
Most of all, I hope you decide to join me on Dodge Radio, every Wednesday night between 9 and 11 PM, dodge the world, enjoy the music!